Advanced Scalper MT4_V1.58
MORE THAN 3 YEARS OF LIVE RESULTS ALREADY -> https://www.mql5.com/en/signals/413850
!! READ SETUP GUIDE BEFORE RUNNING THE EA !! -> https://www.mql5.com/en/blogs/post/705899
Advanced Scalper is a professional trading robot that has been in development for many years. It uses very advanced exit-algorithms and has a build in spread-filter and slippage-control algorithms. It is fully customisable to suit the client's needs and offers many setup possibilities. Of course there are also recommended settings which will be available in the comments-pages.
Quick setup explanation, latest presets, FAQ and manual -> https://www.mql5.com/en/blogs/post/705899
Recommended broker: ICMarkets.com or Alpari.com
Recommended VPS: https://portal.4xhosting.com/aff.php?aff=1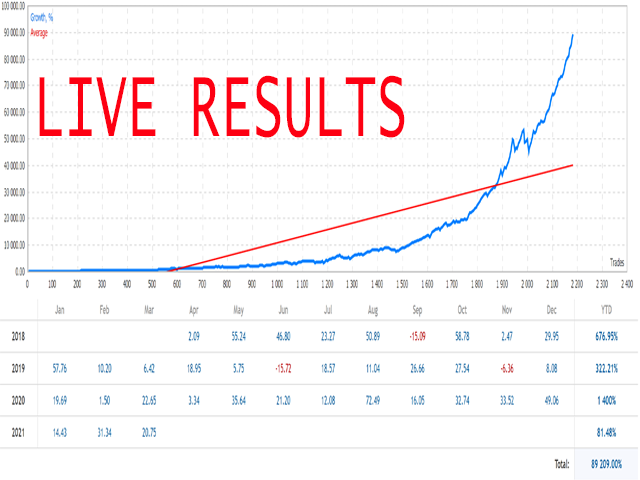 In theory, the EA can be applied to any low spread market that has good liquidity, though I recommend these currency-pairs in particular: EURUSD, USDJPY AND GBPUSD.
The EA can be used in 2 ways (at the moment):
Fully automatic trading, using a High/Low breakout system for entry calculations. This mode can be run on any timeframe, but for more secure entry points, I recommend using H1 or H4.
As a tool for manual trading strategies, where the trader can pick the entry points, or in combination with other EA's for setting the entry points, and the Advanced Scalper EA will use its advanced exit-algorithms to follow up those trades.
In the future, new entry-strategies and/or exit-strategies might be added to the EA, but only if they pass my strict quality control.
Main Characteristics of the EA
Strict use of stoploss on every trade
very advanced SL-management
spread filter to avoid trading during bad market conditions
slippage control algorithm, to avoid bigger losses during heavy slippage
fully automatic mode, with adjustable entries
exit-strategy can be used on any manual trade(s) or on trades from other EA's
survives strict high quality backtests, with real variable spreads, commission and random slippage at 99% tickquality
Proven live results on "high balance" accounts and with several different brokers.
Recommended minimum balance for running full setup: 150$
It is recommended to use the EA on brokers with low spread, low commission and fast execution. Also a broker with STOPLEVEL=0 will work best (=minimum distance to put SL).
Most ECN Brokers have these qualities.
Parameter Overview
The full description is available in the manual, which is available here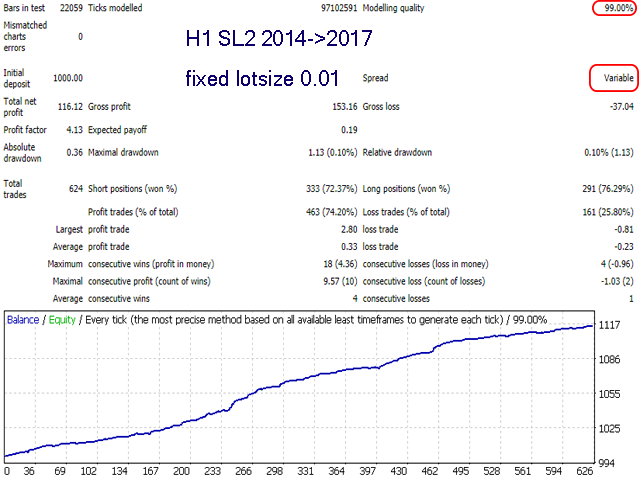 Instructions for installing the advisor:
This trading robot uses a custom DLL «msimg32.dll». Some antiviruses can block it and mark it as a virus. You need to make your antivirus «allow it». This false alarm is triggered because it is a custom DLL and is not verified by any publisher, but is required to unblock the advisor.
The library will work up to build 1335 inclusive.If your build is over 1335 you need to download this terminal and place it with a replacement in the root directory.
To disable auto-update of MT4 terminal do the following:
-Go to the folder C: / Users / Username / AppData / Roaming / MetaQuotes . Delete the entire «WebInstall» folder with all its contents.
-Create a file of any content named WebInstall.
For example, you can create a text document in notepad and rename it, remembering to remove the ending .txt.
Installation: unzip the library file «msimg32» and drop it into the root directory of the terminal, next to terminal.exe. Then restart the terminal.
DONT HAVE ANY CRYPTOCURRENCY? CLICK HERE
After Purchase download link will be available, product can be downloaded 24 H after purchase.
FILE DIRECT READY FOR DOWNLOAD
---
---
Advanced Scalper V1.58
---
---
ZIP Password = getforexea.com (Lower Capital)
ZIP Password = getforexea.com (Lower Capital)