Mql5 AW Recovery EA 2.1 + 2.4 Download
Advisor is a system designed to restore unprofitable positions.
Simple setup, delayed launch during drawdown, locking, disabling other expert advisors, averaging with trend filtering and partial closing of a losing position built into one tool.
The system of automatic calculations will prepare the settings in a few clicks. The use of partial closing of losses allows you to reduce losses with a lower deposit load, which ensures a more secure work with losses, in contrast to the grid strategies of closing orders only in whole groups
Advisor Instructions -> HERE
Benefits:
Suitable for processing both a small number of orders and large grids from unprofitable orders
Simple setup system with powerful functionality
It can be used to recover losses from individual advisors, and automatically start recovery when a certain loss is reached
Recovery of a loss-making position in parts for a smaller deposit load
Advanced Trend Filtering Algorithm
Powerful combination of locking and partial loss closure
A large number of built-in protective functions
MT5 version -> HERE
How to trade with an adviser:
Step 1 : Adjust the pitch and volumes
Let the adviser configure the step between orders and volumes using the panel
Check step for averaging orders
Check the relationship between averaging and closing and their volumes
Step 2 : Configure Advanced Features
Select a period for the trend filter (If used)
Choose a multiplier for averaging orders
Choose Trailing Start
Step 3 : Disable Other Advisors
Disable other advisors working with these orders.
Or let AW Recovery disable these advisers yourself
Or work without locking
Important information:
Test your drawdown before starting, you can do this using the "Visualization" mode in the strategy tester. The EA will open orders only if there is an open losing position for recovery.
When starting the strategy tester, the adviser will open a random order for subsequent recovery.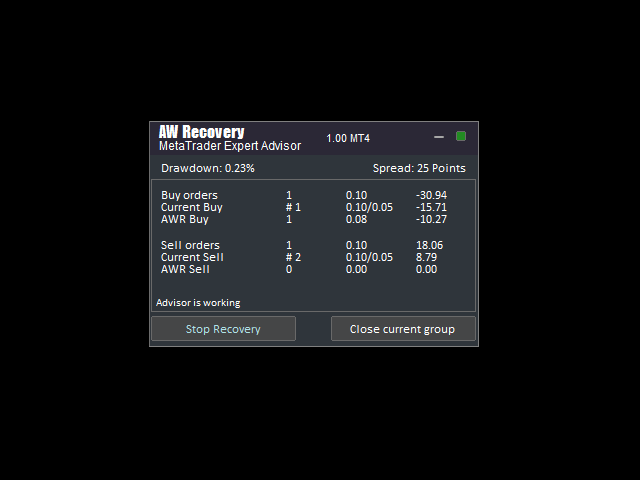 Input Settings:
Type of the launch – A variable that determines the type of launch of the adviser
Drawdown in money to start – Drawdown volume in money after which the EA will start recovery
First ticket for recovery (0-not used) – Order ticket that will be processed first
Work with selected MagicNumber – Restore orders of the selected MagicNumber
Magic for recovery (if used) – Magic number for a losing position
Disable another EAs at launch – module to disable other advisers
Use locking – Enabling automatic locking
Allowed types of average orders – Allowed types of averaging orders that the EA will open
Trend filtering for average orders – This variable regulates the trend filters of the EA
Volume of average order – Size of averaging orders
Multiplier to volume – Multiplier for recovering orders
Step for average – Step between averaging orders. Variable that regulates the minimum step between recovery orders
Multiplier to step – Multiplier for the step of recovering orders.
Part to close from a loss-making position – Part of the loss that will be closed from orders of each type when the position is partially closed.
TakeProfit in money for partial close – TP in money for the current group of orders. The profit from restoring orders is used, as well as the loss, which is part of the volume of " Part to close from a loss-making position " of lots from each type of order from a losing position
Maximum slippage in points – Maximum slippage in points for opening and closing orders
Maximum volume of average order – Maximum volume for one averaging order
Maximum number of average orders – The maximum allowable number of averaging orders of the same type
MagicNumber of average orders (Should be unique) – The main identifier for averaging orders of the adviser
Font size – font size on the panel
Problem solving -> HERE
DONT HAVE ANY CRYPTOCURRENCY? CLICK HERE
After Purchase download link will be available, product can be downloaded 24 H after purchase.
FILE DIRECT READY FOR DOWNLOAD
---
---
AW Recovery EA 2.1 + 2.4
---
---
ZIP Password = getforexea.com (Lower Capital)
ZIP Password = getforexea.com (Lower Capital)