Barclay's EA 3.2 NO DLL REQUIRED
Grows Your Wealth
Presenting The Masterpiece of Expert Advisor
Humans might be terrible at predicting the future, however, through our machine learning system it can be well projected and planned. That's exactly what we do with our expert advisor system to prosperously grow your investment and wealth.Contact Us Now
Tailored Expert Advisor
Help You Achieve your Financial Goals
Our strategy designed and keep updated by worldwide stocks and forex capital market experts. Barclays Expert Advisor is an
innovative product that can help you achieved both short to long term financial goal.
At some point nearly all Forex traders who actively trading would ask or seek for a holy grail system which is the most profitable system that never loss or perhaps the best robot / EA auto trading software that always win all the time. These are totally understandable as long as we could all agree, nobody and no system can predict the market and correct 100%, all we can do is to find the almost perfect system that will predict the market with the least inaccuracy and sometimes along with implementing the next level skill, which is the ability to manage most wrong turns into our favor successfully.
Barclays EA also aware that each trader has their own personal goals that they wish to achieve. We highly treasure whether our client wishes to earn 15, 20, 30, 50, 100, 200 or more than 1000% in a certain period day/month/year. Generally, our recommendation is to set for 30 – 50% monthly grow, this will give you up to 13,000% return in a year when compounded (let the monthly profit stay as your balance). Nevertheless, you are always welcome to get in touch with our support team to personalize your plan and start earning your your profit with a peace of mind.
Performances
Trading in Gold
Barclays UltraScalper
Barclays EA – Starts 2015
Monthly Gain – Low Risk
Barclays EA V3
Pandemic Profit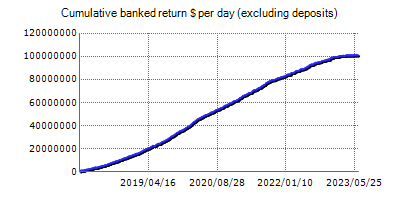 Latest Version: Barclays Regulars V3.2
Strategy: Regular Barclays – swing trading with advance backup grid zero-martingale or hedging strategy. UltraScalper – Scalping strategy that follow Forex brokers' rules and has intelligent averaging-hedging system
Signal Analysis: Indicators Double OsMa (only on V3), Advance Price Action, Support and Resistance, Barclays Elite-Signature Analysis System. Multipair System (Candle Price Action, RSI, Waddah ADX-Bollinger, Moving Average)
Profitability: 90%
Broker: Any, recommendation RoboForex (get 10% EA membership discount if your account trade using our broker recommendation)
Pair: Any, we like to use GBPJPY and XAUUSD due to its high volatility to gain faster profit
Timeframe: Any, we like to use M15 to H4
Profit Potential: 5% to more than 50% monthly or 50%-2000% yearly
Maximum Risk Drawdown: 11%
Money Management: Manual or Auto Risk management (Low – Medium – High Risk)
Recommended Minimum Deposit: $1000 or 10,000 cents (equivalent $100)
DONT HAVE ANY CRYPTOCURRENCY? CLICK HERE
After Purchase download link will be available, product can be downloaded 24 H after purchase.
FILE DIRECT READY FOR DOWNLOAD
NO DLL REQUIRED
---
---
Barclay's EA 3.2 NO DLL REQUIRED
ZIP Password = getforexea.com (Lower Capital)
ZIP Password = getforexea.com (Lower Capital)