EA Syntax 2.8 MT4
IMPORTANT! Contact me immediately after purchase to get setup instructions and a bonus!Real signal:
https://www.mql5.com/en/users/vitalvasa/seller
The Expert Advisor is developed on the basis of mathematical analysis using the author's "HFT" markup.High-frequency trading, or high-frequency trading, or HFT strategies in financial markets that allow you to transact securities in a fraction of a second.High-frequency traders open and close short-term positions with large volumes in order to make small profits (sometimes at the level of fractions of a cent per share) on each trade.The advisor has integrated a filter for determining the trend from the "
EA Golden Elephant
" advisorThe entry point filter is based on the "
Syntax
" indicatorThe order tracking system is integrated from the "
EA Smoke
" advisorSuch systems allow you to quickly increase the account balance without using risky strategies. The Expert Advisor does not use:GridAveragingMartingaleDoubling Recommended Trading Instruments: EURUSD / GBPUSD / USDCAD / GER40 / DE40 / AUDUSD / XAUUSDTimeframe M1-M5-M15
Settings and recommended broker are available here
 – 
https://eaql.net/read-blog/11_expert-advisor-settings-ea-syntax.html
Minimum account balance $ 100 (for one pair)Minimum spread up to 10 (points) or 100 (pips) Be sure to run the advisor on a demo account (1-2 weeks)After that, go to a real account with a minimum investment of $ 100 to $ 500This is necessary so that you understand how the advisor works and how to work with it / how often and when to withdraw profit from the couple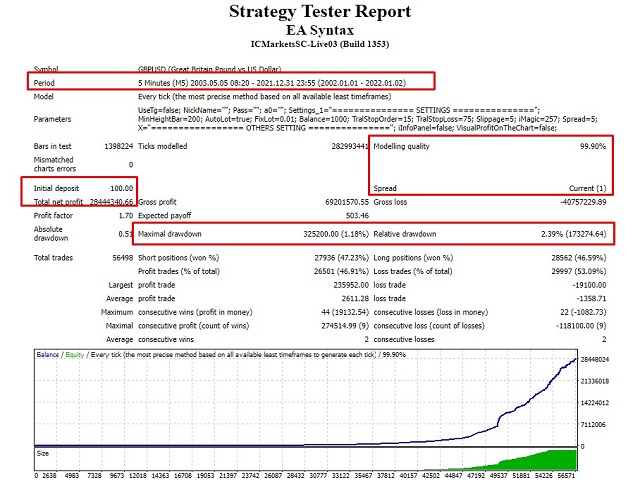 You must log in to submit a review.