GOLD EAgle v2.8 mt5
The Gold EAgle is designed specifically for trading on gold  is used   
TrendLine PRO
 indicator signals and grid strategy. The mathematical grid strategy allows you to optimize trading by opening a new orders to average profits so that a series of orders is closed consistently with a profit. The EA has a mobile trading panel for managing auto-trading functions and the ability to open trades manually. All trades opened by the trader in manual mode will be closed with a profit using the DD Reduce Functions settings
The recommended set file is attached to the User's Manual. You can set aggressive or conservative trade style using the HTF and Candle filter parameters in the settings of GOLD EAgle 
We can say that the task of the GOLD EAgle is to bring any trade to profit regardless of when and how it was opened
How to set the 
News Filter
 you can find in the 
post # 89
Recommended set file: 
download here
How Gold EAgle works VIDEO: 
https://youtu.be/Aqf3BEV5c3w
Before testing, make sure that you have a history of symbol. Use the Visual Mode of the MT Tester to see how GOLD EAgle works! Recommended set file for conservative trading you can 
download here
After purchased email me to recieve personal invitation to the customers support chat: profitcamp@mail.ru
 User's Manual: here         Live signals:  here        Our programs : here      GOLD EAgle MT4: here
Use only a Hedge account
To speed up the test, turn off the parameters: View panel and View profit (=false)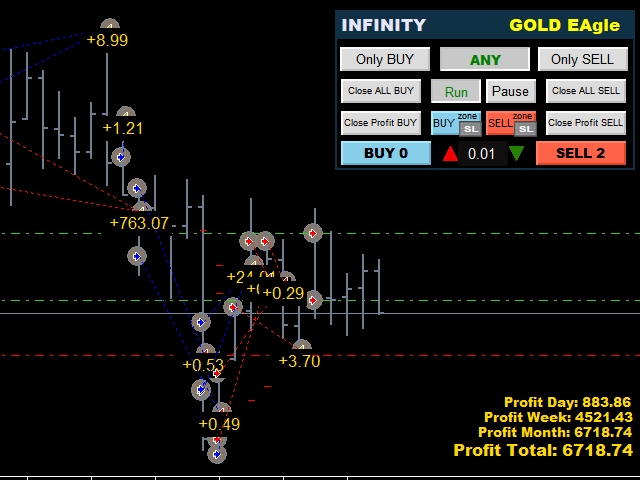 You must log in to submit a review.