Matterhorn 1.0 Mt4
The Matterhorn is a simple but unique grid expert. The Expert Advisor contains a combination of author's indicators and sophisticated grid algorithms. The Expert Advisor allows you to use both the suggested settings files and a wide range of parameters for more fine-tuning personalised settings. The Expert Advisor uses trend and counter-trend indicators, classical grid algorithms with averaging and martingale as well as pyramiding are used in trading. The Expert Advisor is flexible in its settings, which gives the user ample opportunities for optimization in different trading instruments.
Read F.A.Q and recommendations
Info:
Working symbol >> Any trading instrument (Additional optimisation required)
Working Timeframe: >> Any
Min deposit $100 (or equivalent in cents)
Recommended deposit $1000 (or equivalent in cents)
Leverage 1:100 minimum (1:500 is required)
Features:
Advanced profit trailing system
A smart order management system
Pyramiding and intelligent martingale
Drawdown recovery system
Hedging of unprofitable positions
Not sensitive to broker conditions
Easy to install
Risk Warning:
Before you buy Matterhorn Expert Advisor please be aware of the risks involved.
Past performance is no guarantee of future profitability (EA could also make losses).
The backtests shown (e.g. in screenshots) are highly optimized to find the best parameters but therefore results cannot be transferred to live trading.
This strategy uses dangerous methods of money management like a grid, averaging, pyramiding and martingale
Please not invest or risk money that you cannot afford to lose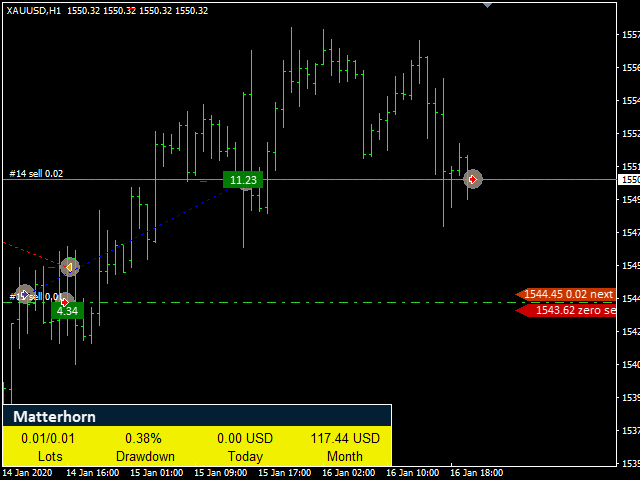 You must log in to submit a review.