Mql5 Expert Advisor TwilightTrade SEES V17.88 + TwilightTrade PRO V36.30 Download
TwilightTrade SEES is an automated Expert Advisor based on level trading strategy, price action and some MetaTrader 4 standard indicators. With Profit Close and Profit Percent, you will control your profit and with no stop loss you will protect your balance. The money management gets the right automatic lot calculation based on your risk per trade. This system uses no grid, no martingale, no arbitrage, no hedges, no tick scalping, and the best part is running fully automatic.
TwilightTrade SEES works on my live signals accounts. You can look at my real signals at MQL5 site via https://www.mql5.com/en/users/twilighttrade
Requirements and Recommendations
Please use this EA on GBPUSD M15.
VPS hosting 24/7 is strongly advised.
Parameters
SeeSSetFile — money management.
UseMM — money management.
Risk — capital management risk.
MaxLots — maximum lot.
MaxSpread — max spread.
Slippage — slippage. 1-3 suggested – no more and no less.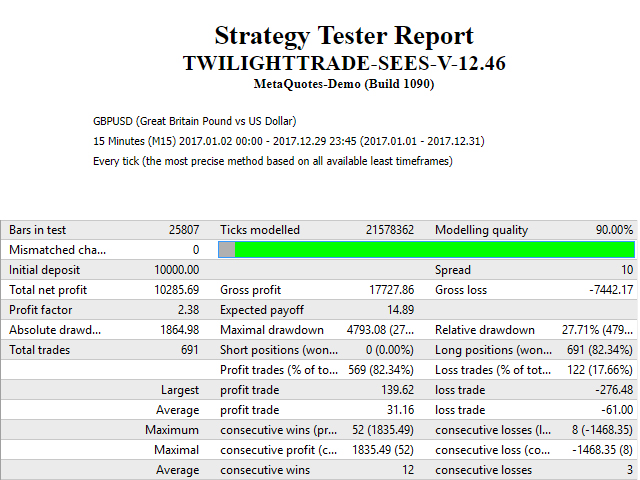 Use the Expert Advisor on GBPUSD M15.
In addition to this Expert Advisor, you also get the Twilight Trade PRO V36.33 Expert Advisor from the same author, which includes 150 strategies!!!
DONT HAVE ANY CRYPTOCURRENCY? CLICK HERE
After Purchase we verify the Payment. You will be Re-directed to leave Your email address.
You will receive the file within 24hr in your MailBOX
---
---
TwilightTrade SEES V17.88 + TwilightTrade PRO V36.30
---
---