FREE MQL5 EA Algo Scalp Pro
Always use stop loss
Martingale/ grid / hedging is not used, etc. (the recovery function uses lot increase 1 time)
Complies with FIFO rules
Recommendations for risk (maximum) (recovery mode):
1:500 – Risk = 25;
1:200 – Risk = 10;
1:100 – Risk = 5;
1:50 – Risk = 2.5;
1:30 – Risk = 1.5;
Attention! If you use Recovery mode, the EA uses a file named "Name of the file recovery" to write data for this function and if you run the EA again (i.e. as the first start) or change the account, you need to change this name.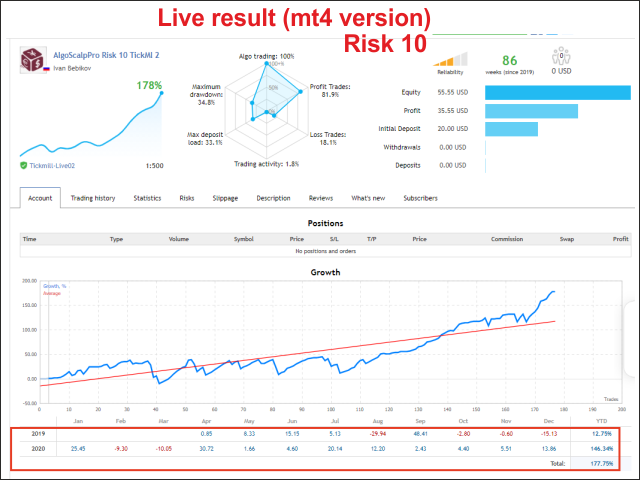 Parameters:
Name of the file recovery – name for the data storage file for the recovery function;
Magic Number – transaction ID;
Show Info Panel – show information panel.
EA Comment – comment to trades.
Lot calculation mode (Auto/Fix) – lot calculation mode (Autolot/Fixed Lot);
Risk – lot size based on maximum risk per trade;
Fix Lot – fixed lot size;
Take Profit – take-profit;
Stop Loss – stop-loss;
Spread control ON/OFF (current) – control of the current maximum spread;
Spread control ON/OFF (average) – control of average maximum spread;
Adaptation SL in case of slippage – adaptation of the Stop Loss during slipping (set the proper SL, if it was slippage when opening a trade);
Close trade if the slippage > "Maximum Slippage" – forced closing of a trade when a pending order is slipped by more than the value specified in the Maximum Slippage parameter;
Maximum Slippage – the maximum slippage for activation of forced close;
Breakeven – function of transfer of the transaction to breakeven (on/off);
The number of points to breakeven – the number of profit points required to activate the Breakeven function;
Size breakeven – number of profit points (where stop loss will be set);
Buy Pending shift – shift to place a buy order;
Sell Pending shift – shift to place a sell order;
Winter GMT Offset – server winter time zone;
EA Start Hour – the hour to start work;
EA End Hour – end hour of work;
Friday End Time – time of finishing work on Friday;
Amount of profit (in points) for the trailing stop – number of points required to start a trailing stop;
Trailing stop value – the size of the trailing stop;
Step of the trailing stop – the step of the trailing stop;
Pending order placement interval (Recommend – Current) – pending order placement interval (recommended – Current);
Allow buy orders – allow buy orders;
Allow sell orders – allow sell orders;
Broker Commission amount – The size of the brokerage Commission (per lot);
Broker quotes shift (true / false) – Use quote shift (if the Bid price is different from the price on the chart);
Broker quotes shift (auto calculation) – Automatically calculate shift;
Broker quotes shift (enter a value) – The shift value;
Number of attempts to break the level – the number of attempts breakdown;
Adaptation support in slippage – adaptation support in slippage;
Recovery mode – drawdown recovery function (on/off);
Multiple start recovery (trailing/breakeven) – coefficient for trailing/no loss for recovery function;
Multiple lot for recovery mode – lot calculation factor for recovery function;
Loss point for activate Recovery – the size of the loss in points to activate Recovery mode;
Start balance point – the starting points for calculations;
Instructions for installing the advisor:
This trading robot uses a custom DLL «msimg32.dll». Some antiviruses can block it and mark it as a virus. You need to make your antivirus «allow it». This false alarm is triggered because it is a custom DLL and is not verified by any publisher, but is required to unblock the advisor.
The library will work up to build 1320 inclusive.If your build is over 1320 you need to download this terminal and place it with a replacement in the root directory.
To disable auto-update of MT4 terminal do the following:
-Go to the folder C: / Users / Username / AppData / Roaming / MetaQuotes . Delete the entire «WebInstall» folder with all its contents.
-Create a file of any content named WebInstall.
For example, you can create a text document in notepad and rename it, remembering to remove the ending .txt.
Installation: unzip the library file «msimg32» and drop it into the root directory of the terminal, next to terminal.exe. Then restart the terminal.