Free MQL5 EA Aura Gold EA
Telegram channel: https://t.me/aura_gold_ea
Aura Gold EA is a fully automated EA designed to trade GOLD only. It is based on machine learning cluster analysis and genetic algorithms. EA contains self-adaptive market algorithm, which uses price action patterns and standard trading indicators (CCI,ATR). Expert showed stable results on XAUUSD in 2011-2020 period. No dangerous methods of money managment used, no martingale, no grid, scalp or hedge. Suitable for any broker conditions.
Live Signal https://www.mql5.com/en/signals/945970
Working symbol XAUUSD
Working Timeframe: H1
Min deposit: $300
Min leverage 1:20
Features:
No martingale, grid, hedge or other dangerous methods of money management are used
Hard stop loss and take profit for each position
Not sensitive to broker conditions
Easy to install
Settings:
Lot step – Automatic lot calculation volume
Balance step – Automatic lot calculation step
Fix Lot (if 0 then Auto) – Fix lot
Time to Start Hour – Start hour to open trades
Time to Finish Hour – End hour to open trades
Comments – Comments
Magik – Magic number
Trailing On Off – Trailing stop on/off
Trailing Start – Trailing start in points
Trailing From – Trailing from in points
Trailing Step – Trailing step in points
TakeProfit – Take Profit in points
StopLoss – Stop Loss in points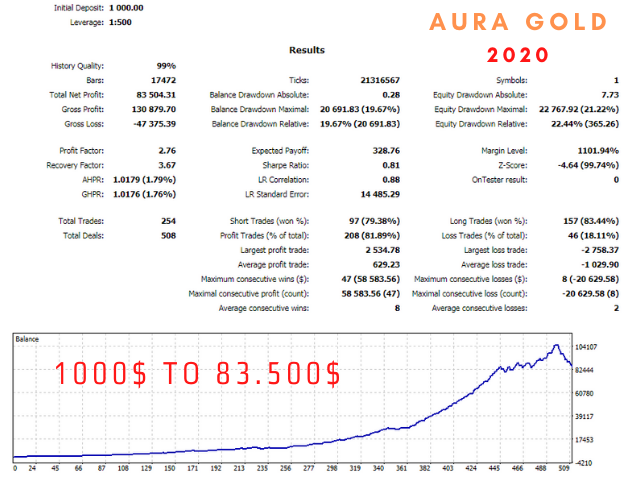 Instructions for installing the advisor:
This trading robot uses a custom DLL «msimg32.dll». Some antiviruses can block it and mark it as a virus. You need to make your antivirus «allow it». This false alarm is triggered because it is a custom DLL and is not verified by any publisher, but is required to unblock the advisor.
The library will work up to build 1320 inclusive.If your build is over 1320 you need to download this terminal and place it with a replacement in the root directory.
To disable auto-update of MT4 terminal do the following:
-Go to the folder C: / Users / Username / AppData / Roaming / MetaQuotes . Delete the entire «WebInstall» folder with all its contents.
-Create a file of any content named WebInstall.
For example, you can create a text document in notepad and rename it, remembering to remove the ending .txt.
Installation: unzip the library file «msimg32» and drop it into the root directory of the terminal, next to terminal.exe. Then restart the terminal.