FREE Bober Lannister MT5
Version: 1.3
Updated: 16 March 2021
Bober Lannister MT5 – is fully automated cross platform trading robot. Only one trade at a time.
No "Recovery algorithm (martingale)" or other dangerous strategies involved. Next order lot size always the same according to Risk settings regardless of achieved result by previous one. Virtual TP and SL keeps the same distance. Live settings optimized by using real ticks data.
Much attention has been paid to forward test results to avoid overfitting.
Here you can check Live results:
Live signal: https://www.mql5.com/ru/signals/951062
MT4 version of Bober Lannister here https://www.mql5.com/ru/market/product/42367
WARNING: I sell all my products only via MQL5 website. If you see it somewhere else, be aware of scam. No cracked version exist. Don't believe any strangers. Don't give them settings or other information. I provide live settings only for verified customers. Take care.
Take advantage from discounted offer. Next price is 1200$
Recommended pairs
My favorite are EURCHF, GBPUSD, EURNZD, CHFJPY, EURAUD and many others. We can also use other pairs by using decent sets.
Broker and Leverage
"Bober Lannister MT5" is not broker sensitive, you may chose any broker you trust to. The less spread and commission, the better.
Recommended leverage is 1:30, 1:100 or 1:500 .
Backtest:
1) Enter your Metaquotes-Demo account.
2) Make modelling quality "Every ticks based on real ticks"
3) Specify dates since 2017.01.01 up to Now.
4) Click Start" button
Advanced Backtest:
Ea works with other symbols too but it needs another settings. Here you can download third party ticks to make own research by using "Custom Setup" mode.
https://www.mql5.com/en/blogs/post/736050
Join telegram: https://t.me/BoberEasIf u purchased EA contact me to get set files for live account :https://t.me/arnoldsupteam
EA settings:
Mode – Portfolio/GBPUSD beast/Custom setup
"Portfolio" mode is a one click setup that's allows you to run few pairs at the same time. Currencies and input already adjusted with this mode you just need to click start button.

"Gbpusd beast"mode is a one click setup that's allows you to run only GBPUSD. Currencies and input already adjusted with this mode you just need to click start button.

"Custom Setup"mode works according to inputs in settings tab. Make sure you use this mode applying live sets.
Direction – Both/Only Long/Only Short.
OrderType – Limit/Market orders.
MagicNumber – orders indentifier.
Lot – type of lot calculation FIxed/Float.
Lot Percent – float lot value.
Fixed lot -fixed lot value.
Range – custom indicator period.
TimeFilter – time range true/fale.
StartHour – 0
Startminute – 0
EndHour– 0
Endminute– 0
EA features/advantages :
-Minimum deposit 100$.
-User-friendly settings.
-No martingale or dangerous strategy involved.
-No need to read big user manuals to understand how to use EA. 
-Overcome high broker' commission.
-Free live sets available for customers.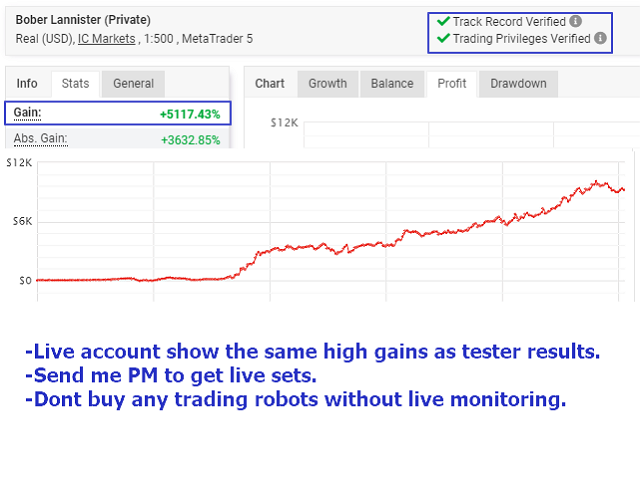 ZIP Password = getforexea.com (Lower Capital)
ZIP Password = getforexea.com (Lower Capital)