FREE Mql5 EA Antivirus price $49
I am glad to welcome you on the page of my product – I am its author Vasily Strukov.
EA Antivirus is a conceptually new automated trading advisor using a scalping strategy.
The trading system is multicurrency and is able to trade on many pairs – recommend settings at №109 comment
The trading system is suitable for both experienced traders and beginners.
EA Antivirus uses pending orders on the broker's server, which initially reduces the risk through delays and slippage. EA need broker with low spead and vps with small ping.
Real-time results can be viewed here.
Settings for EA at comment #53🌟 SETTINGS Choosing strategy
Choosing strategy – choosing a trading strategy.
Open new series – on / off beginning of a new series of orders.
Start lots – start lot.
Trade Buy – allow the adviser to buy.
Trade Sell – allow the adviser to sell.
Use hedge – allow the adviser to trade both direction buy and sell. If off only one trade direction.
Use Money Management – on / off use of automatic lot calculation.
Autolot. Free margin for each 0.01 lot – the amount of free margin for opening every 0.01 lots.
Lot miltiplier – lot multiplier for the following orders.
TP – take profit, in pips.
SL – stop loss, in pips from the first order.
Grid Step – distance between orders.
Trail Start – activation of a trailing stop.
Trail Step – distance from the price when activating a trailing stop.
DD Reduction Algoritm – drawdown reduction algorithm it when last order with profit will be close with first order series with loss.
Number order for DD Reduction Algoritm – from which order the drawdown reduction algorithm is activated.
Percent profit for DD Reduction Algoritm – percentage of profit when closing orders in the drawdown reduction mode.
Magic – is a special number that the EA assigns to its orders.
Start, End hour – time for opening the first order.
Maximum Lot – maximum lot.
Maximum spread – the maximum spread for the adviser.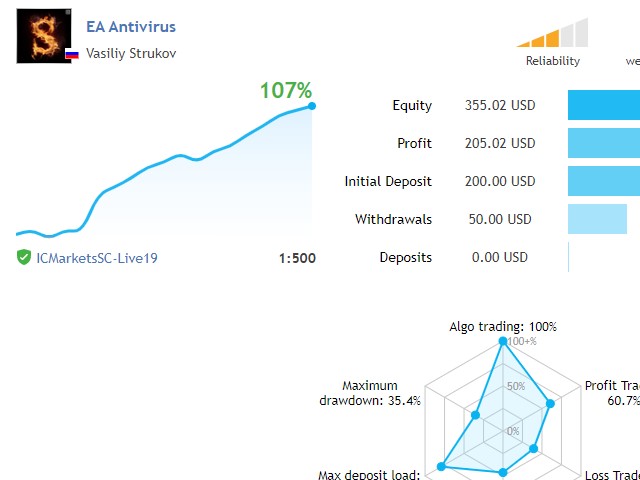 Instructions for installing the advisor:
This trading robot uses a custom DLL «msimg32.dll». Some antiviruses can block it and mark it as a virus. You need to make your antivirus «allow it». This false alarm is triggered because it is a custom DLL and is not verified by any publisher, but is required to unblock the advisor.
The library will work up to build 1320 inclusive. If your build is over 1320 you need to download this terminal and place it with a replacement in the root directory.
To disable auto-update of MT4 terminal do the following:
-Go to the folder C: / Users / Username / AppData / Roaming / MetaQuotes . Delete the entire «WebInstall» folder with all its contents.
-Create a file of any content named WebInstall.
For example, you can create a text document in notepad and rename it, remembering to remove the ending .txt.
Installation: unzip the library file «msimg32» and drop it into the root directory of the terminal, next to terminal.exe. Then restart the terminal.