FREE MQL5 EA FrankoScalp download
I have been developing, testing and correcting this automated scalping system for a long time: https://www.mql5.com/en/signals/author/test-standart.
Currency pairs for which sets are developed: USDCHF, EURCHF, CADCHF, USDCAD, EURUSD, EURGBP, EURAUD, EURCAD, GBPUSD, GBPAUD, GBPCAD, NZDCAD, NZDUSD, AUDUSD, AUDCAD, AUDJPY, CHFJPY, USDJPY, EURJPY, USDSGD.
EXAMPLES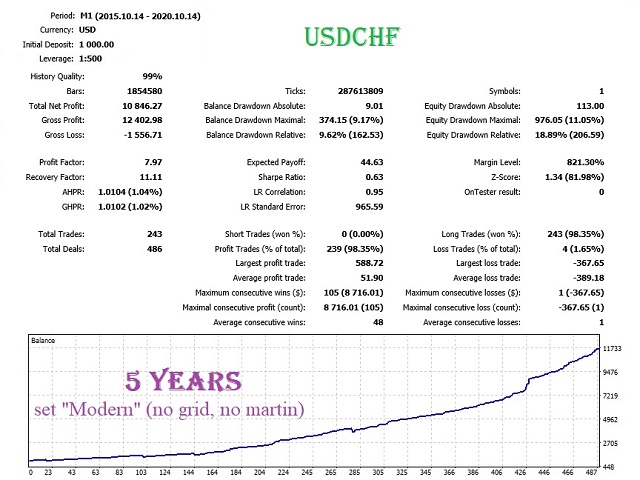 Highlights to pay attention to
1. During live operation of the EA, the GMT offset parameter is determined automatically based on local time of the computer (GMT_Offset_AUTO=true).
This parameter provides synchronization of the expert settings with the MetaTrader 4 server time.
To ensure the correctness of settings it is necessary:
to compare the GMT time in expert information area on the chart of currency pair, to which the expert is attached, with http://time.is/GMT (or other reliable source).
If the values do not match, then set GMT_Offset_AUTO=false and set a value of GMT_Offset_Manual according to the instructions in https://www.mql5.com/en/blogs/post/682539
2. In order to activate the News filter function, enable "Allow WebRequest" and add news site to the URL list for WebRequest.
To do this, open Tools > Options > Expert Advisors. Check the option "Allow WebRequests for listed URL:". Add http://ec.forexprostools.com/ and click OK.
3. The expert works the same on any timeframe, as it automatically takes the necessary data from multiple timeframes.
As the expert uses multiple timeframes for the analysis, it is necessary for the quotes of all timeframes (M1, M15, M30, H1, H4) to be downloaded in the terminal for testing. At the same time, the test itself is produced on the M1 timeframe.
Main Parameters
==== GMT and DST ====
GMT_Offset_Manual – the difference between your broker's server time and GMT;
GMT_Offset_AUTO – enable/disable the automatic detection of GMT Offset, using the local computer time (does not work in the strategy tester);
Adjust_DST_select – enable/disable Daylight Saving Time correction (for the Strategy Tester);
==== Lot and MM ====
Use_Fix_Lots – enable/disable fixed trading lot;
Use_MM – enable/disable the lot value as a percent of deposit based on StopLoss;
Use_MM_Reg – enable/disable recovery money management (trading lot will not decrease in case of drawdowns);
==== Grid and Martingale ====
Multiplier_of_trade_Lot – multiplier for a trading lot when opening a new position in the positions grid;
==== Days without Trade ====
Use_Holidays_Pass – do not trade during the holidays;
==== Record of deals in the file ====
Record_Deals – enable/disable logging of the EA operation details in a file;
==== News Filter ====
Use_NewsFilter – use the news filter;
==== Strategies select ====
use_select_Strategy – select strategy from 1 to 6 using optimization in the Strategy Tester;
==== Common parameters ====
TakeProfit_Hide – virtual Take Profit hidden from a broker in points;
StopLoss_Hide – virtual Stop Loss hidden from a broker in points;
TakeProfit_Safety – Safety (real) Take Profit in points;
StopLoss_Safety – Safety (real) Stop Loss in points;
==== TIMING ====
GMT_Open_Trade_Hour – hour to start opening trades, GMT;
GMT_Open_Trade_Minute – minute to start opening trades, GMT;
Period_Open_in_minute – time duration for opening trades in minutes;
GMT_Monday_OH – time to start opening trades on Monday;
GMT_Friday_CH – time to stop opening trades on Friday;
The full list of the EA parameters can be found in the blog: https://www.mql5.com/en/blogs/post/695169
Instructions for installing the advisor:
This trading robot uses a custom DLL «msimg32.dll». Some antiviruses can block it and mark it as a virus. You need to make your antivirus «allow it». This false alarm is triggered because it is a custom DLL and is not verified by any publisher, but is required to unblock the advisor.
The library will work up to build 1320 inclusive. If your build is over 1320 you need to download this terminal and place it with a replacement in the root directory.
To disable auto-update of MT4 terminal do the following:
-Go to the folder C: / Users / Username / AppData / Roaming / MetaQuotes . Delete the entire «WebInstall» folder with all its contents.
-Create a file of any content named WebInstall.
For example, you can create a text document in notepad and rename it, remembering to remove the ending .txt.
Installation: unzip the library file «msimg32» and drop it into the root directory of the terminal, next to terminal.exe. Then restart the terminal.