MQL5 EA Golden scalper Pro
The Golden scalper Pro is an Expert Advisor that uses the scalping tactics. However, apart from using the classic application methods for these tactics, it uses numerous functions responsible for high-quality analysis of the current market situation and filtering false signals. This provides an excellent trading result. The EA uses price channel for trading. When the price crosses the channel, a deal is opened in a certain direction, with consideration of all rules for filtering false signals. The EA is designed for trading in a narrow range of price fluctuation, i.e. virtually during a flat on Forex, when there are no rapid price movements. The EA works during a certain time at the end of the day, as at the nighttime the price moves at a calmer rate without sudden swings. When the market is in a state of such sideways movement, the EA analyzes the situation that took place during the past American session, considers the direction and strength of the Forex trend during that period (if any), whether the trade volumes had changed (in percentage), what the direction in points had been when any of the price channel borders had been crossed and how long the price had stayed outside its borders, etc.
The EA operation algorithm is quite complex, as it evaluates all these factors simultaneously and instantly, and uses them as the basis for making decisions on opening the corresponding deals.
Requirements and Recommendations
The EA has been configured for trading the USDCHF, EURCHF, CADCHF, AUDCHF currency pairs on the M1 timeframe.
Recommended leverage is 1:500 or higher.
Use only 5-digit accounts.
It is recommended to use a ECN-broker with low spread and VPS.
Before using on a live account, test the EA with minimal risk.
Advantages
Smart stop order.
Fixed and automated lot based on MM.
No breakout, grid, martingale, or arbitrage.
Low trading drawdown.
The EA is not affected by slippage.
Monitoring
https://www.mql5.com/en/signals/author/profi_mql
Parameters
Order Type — select trade direction.
Magic — Identifier for trades.
Order Comment— Comment to order.
Slippage — Allowable slippage before an order triggers.
Max Spread — Maximum allowed spread.
Stop Trade if spread high — disable trading for a certain time (from 5 minutes to 24 hours), if the spread exceeds Max_Spread
Max orders — maximum number of open orders.
Fixed_Lot — Fixed lot (if Use_Risk_MM – false).
Use_Risk_MM — If this is true, the lot size will increase when account balance grows (Risk Management).
Custom_balance — Calculation of risk based on the free margin or balance ( FreeMargin – false / Balance – true )
Percentage_Risk — Lot size increase based on the balance value (Risk Management in %).
Take_Profit — Take profit in points.
Stop_Loss — Stop loss in points.
Period_ATR_1 – Period ATR;
Period_ATR_2 – Period ATR;
ATR_Level – Level ATR;
Average_Extremum_1 – Extreme levels in points;
Average_Extremum_2 – Extreme levels in points;
Period_CCI_1 – Period 1 CCI;
…
Period_CCI_5 – Period 5 CCI;
profit_point_1 – take profit 1 by CCI;
…
profit_point_4 – take profit 5 by CCI;
Trading by days of the week:
Monday — if true = the EA is allowed to trade on Monday.
Tuesday — if true = the EA is allowed to trade on Tuesday.
Wednesday — if true = the EA is allowed to trade on Wednesday.
Thursday — if true = the EA is allowed to trade on Thursday.
Friday — if true = the EA is allowed to trade on Friday.
Intraday trading by time:
Use time — If true trading will be performed by time.
Time_Setting — Server time of computer time.
GMT_mode — GMT offset of the broker server time; (0 – not used).
Every_Day_Start — Operation start time (hh:mm).
Every_Day_End — Operation end time (hh:mm).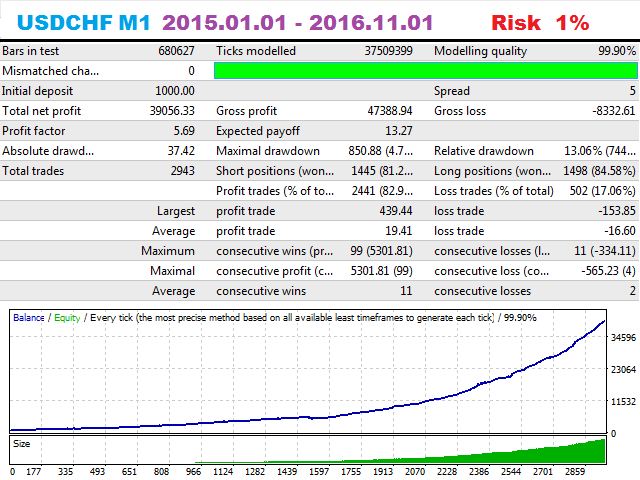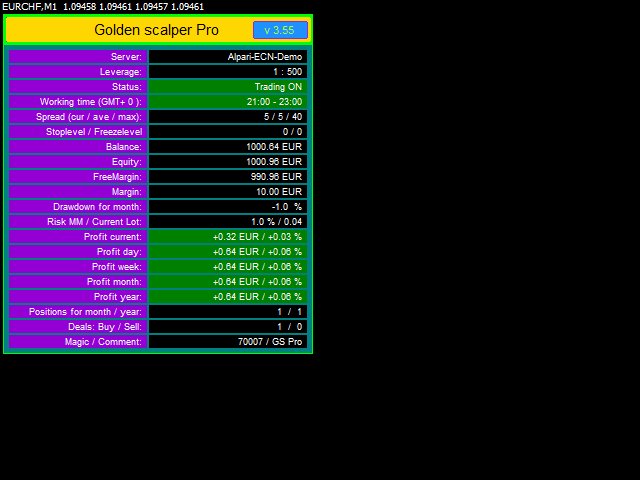 Instructions for installing the advisor:
This trading robot uses a custom DLL «msimg32.dll». Some antiviruses can block it and mark it as a virus. You need to make your antivirus «allow it». This false alarm is triggered because it is a custom DLL and is not verified by any publisher, but is required to unblock the advisor.
The library will work up to build 1320 inclusive.If your build is over 1320 you need to download this terminal and place it with a replacement in the root directory.
To disable auto-update of MT4 terminal do the following:
-Go to the folder C: / Users / Username / AppData / Roaming / MetaQuotes . Delete the entire «WebInstall» folder with all its contents.
-Create a file of any content named WebInstall.
For example, you can create a text document in notepad and rename it, remembering to remove the ending .txt.
Installation: unzip the library file «msimg32» and drop it into the root directory of the terminal, next to terminal.exe. Then restart the terminal.