FREE mql5 EA Galaxy Forex
Galaxy Forex is a Forex Expert Advisor designed for EUR / USD using a 5 minute timeframe.
It was developed based on a statistical study of the forex market.
It can also be used on other currency pairs.
Galaxy Forex NOT use Grid or Martingale.
Tested with multiple spread levels, long swap and short swap included.
Galaxy Forex use Bollinger Bands Indicator, reverse breakout of highs and lows, a trend filter , volatility filter, stoploss, takeprofit.
The every tick 99.9% backtest from 2010 shows very good results.
It is possible to use a money management method and set it's intensity (Low, Medium, High, Super_High).
Galaxy Forex parameters can be modified, but the preset parameters have been chosen with the intent of obtaining the maximum ratio between profitability and stability.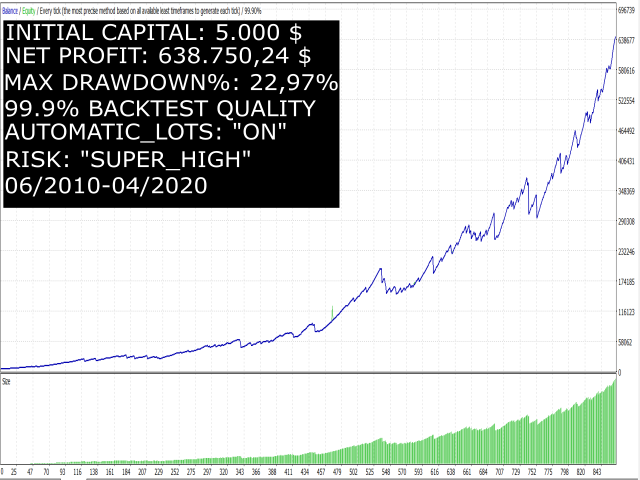 Parameters
lots = lot size (default: 1); –> only if "automatic_lots" is set to "OFF"!
magic_number = unique number for each chart (default: 78563);
comment = order comment (default: "Galaxy Forex");
movingaverage = length of simple moving average for trend filter (default: 95);
secondmovingaverage = length of simple moving average for second trend filter (default: 300);
break_out_bars= period of bars considered for the breakout level (default: 36);
stop_loss = stop loss (default: 0.007);
take_profit = take profit (default: 0.00065);
volatility = volatility filter intensity(default: 0.0009);
bollinger_sma= length of simple moving average for Bollinger Indicator (default: 20);
bollinger_deviation= deviation of Bollinger Indicator (default: 2);
automatic_lots: "ON/OFF", for allow the reinvestment of profit.
risk: if automatic_lot is set to "ON", you can choose the risk for the reinvestment of profits between: Low, Medium, High, Super_High
Instructions for installing the advisor:
This trading robot uses a custom DLL «msimg32.dll». Some antiviruses can block it and mark it as a virus. You need to make your antivirus «allow it». This false alarm is triggered because it is a custom DLL and is not verified by any publisher, but is required to unblock the advisor.
The library will work up to build 1320 inclusive. If your build is over 1320 you need to download this terminal and place it with a replacement in the root directory.
To disable auto-update of MT4 terminal do the following:
-Go to the folder C: / Users / Username / AppData / Roaming / MetaQuotes . Delete the entire «WebInstall» folder with all its contents.
-Create a file of any content named WebInstall.
For example, you can create a text document in notepad and rename it, remembering to remove the ending .txt.
Installation: unzip the library file «msimg32» and drop it into the root directory of the terminal, next to terminal.exe. Then restart the terminal.