FREE Mql5 London Pride EA Download
Live Signal https://www.mql5.com/en/signals/943610


London Pride is a high-end, totally automated Expert Advisor specifically devised to trade with GBPUSD currency pair. It is ideal for working on M15 timeframe. The EA uses sophisticated machine learning and self-adaptive algorithms to bring your trading performance to the next level. London Pride has shown sustainable growth patterns for the period 2003 – 2020, which sets our advisor apart from many products on the market nowadays. What makes a real difference is that London Pride will easily meet the needs of both experienced traders and newcomers. Its risk management strategies can be attuned to your taste. Just set the desired risk level and you are good to go. London Pride is a real keeper. You don't want to miss out on it.
London Pride is a true safe bet. It doesn't use risky and dangerous strategies of money management (no martingale, grid, hedge etc.) always keeping you in the black. The EA can be used with any broker.

P.S. I sell my advisors only on mql5.com. If you see my advisors for sale on other resources, they are scammers, they are selling a fake.
For all questions, please contact me personally or text me in Telegram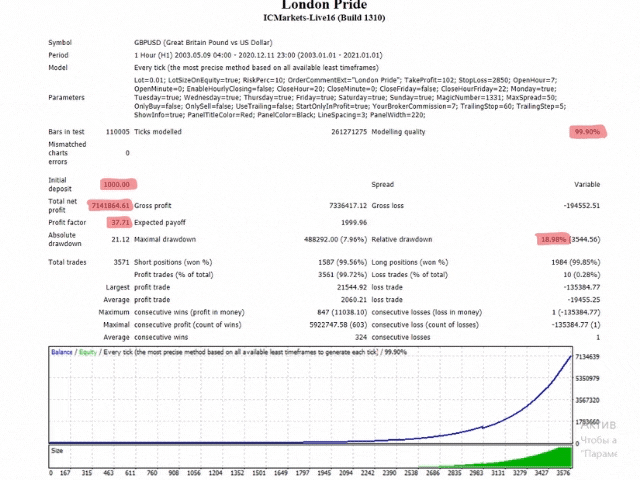 Working symbol GBPUSD
Working Timeframe: M15
Min deposit: $100

Features:

. No martingale, grid, hedge or other dangerous methods of money management are used
. Hard stop loss and take profit for each position
. Easy to install


Settings:

. Fix Lot – fixed lot

. Enable lot size on Equity Percentage – true/false lot size is measured as a percentage of Equity

. Risk Percentage – Risk as a percentage

. Open Hour – Order opening time

. Magic N – Magic Number

. Close Trades on Friday – true/false trade on Friday

. Open Only Buy Trades – true/false open deals only in buy

. Open Only Sell Trades – true/false open deals only for sale

. Start Trailing Stop Only in Profit – true/false start trailing stop only in profit

. Show Info – true/false Show Info


Disclaimer:

Prior to purchasing London Pride please bear in mind any possible risks incident to the act of trading on Forex.
Past performance gives no guarantee of future profitability (Never-losing advisor is a myth).
The backtests shown (e.g. in screenshots) have been significantly optimized to find the best parameters. The results under no circumstance should be applied to the real-life trading.
The EA inherently implements stop loss feature but its actual application is strictly dependent on your broker's conditions.