FREE Mql5 Ultra Point Auto Download
The decision to open buy or sell orders is determined by an intelligent system that analyzes the latest bars and calculates the correlation with the bars in the past. The system has been trained on all available history for many popular pairs that you can choose from in settings. It has 100 sets of the most profitable options using averaging that work as separate strategies, forming average lots in two directions that will be opened.
Each virtual strategy is protected by a virtual Deposit (VirtualStopBalance), with an increase in the loss beyond it, virtual positions will be closed and stored in a global variable. Global recovery can be used to recover these losses.
This expert Advisor has a global recovery system that is compatible with products GeneratorPro, BlackPointAuto, Combination, HotPointAuto, GreenPointAutoIssues and Notes: https://www.mql5.com/en/blogs/post/727184
Recommendations:
Ultra low spreads requied due to the large amout of open and closed orders.
Brokers with Commission are recommended to connect to Rebate to return part of the Commission.
Deposit from $ 1000 or equivalent.
Period M15.
Leverage 1:500.
ECN account.
Peculiar properties:
No configuration required.
It has a built-in system for saving calculations and parameters to files.
There is a system of error control with feedback.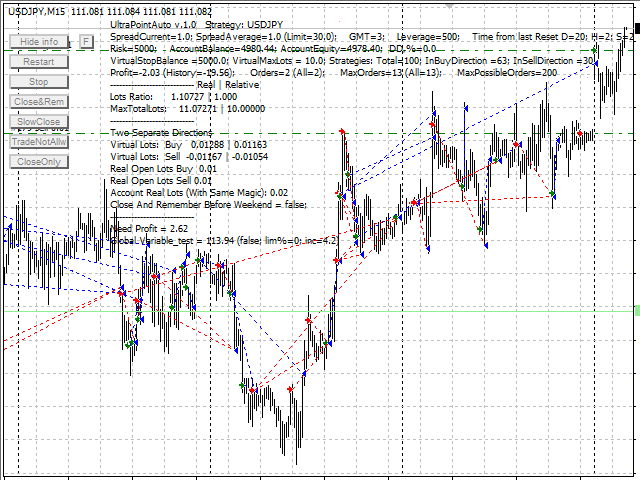 Parameters:
Select Strategy – choice of strategy;
Risk-risk Parameter. The risk equal to 5000 on one pair will be considered normal. An increase Risk (for example 10000) is considered to be a decrease in riskiness, a decrease Risk (for example 2000) is considered to be an increase in riskiness. Some servers (a small number) may not have a standard margin calculation system, so the risk value may be different, you may need a correction of 100, or another value. Check in the tester;
AutoFixBalance – Automatic setting FixedBalance. If the current balance is higher than FixedBalance, FixedBalance is equal to the current balance;
FixedBalance – if it is 0, the EA works with the entire Deposit balance, if it is not 0, it will work with the specified value. This value can be less or more than the current balance;
MaxTotalLots – this is a limit on the maximum number of average volume of all lots from all virtual strategies. Real maximum number of all lots = Deposit / Risk *  VirtualMaxLots*k, where k is equal to the ratio of the second pair to the Deposit currency;
VirtualStopBalance – the balance of each virtual strategy, when exceeded, all virtual positions are closed and transferred to GlobalVariable;
VirtualMaxLots – maximum value of all lots of each virtual strategy. Virtual lots start at 0.01;
Auto GMT – enable automatic calculation of GMT and server time difference;
ManualGMTOffset – set your own terminal time difference minus GMT;
SummerTime – is the season of time. Use only when testing. Need to EA translated GMTOffset for one hour;
Slippage – slippage;
SpreadLimit – set the spread limit in points;
Commission – compensation of Commission from transactions;
Magic Number – unique number;
Comment – Orders comment
FIFO – use FIFO;
Partial Closure – partial closure;
Limit Orders of Symbol – limit positions, 0 – no limit;
Close And Remember Before the Weekend – close, and to memorize the positions before the weekend.
Close Save And Restart After DD,% (from Current Balance) – close, save to a global variable, and start again after a drawdown of adviser from the current balance;
Close Save And Restart After Account DD,% (from Max Account Equity) – close, save to a global variable, and start again after the drawdown of the account from the maximum equity;
Global Recovery 2019 – enable / disable global recovery;
Global Variable Name – the name of the global variable;
Global Recovery BalanceLimitPercent  – virtual balance loss limit;
Global Recovery Inc – increment to virtual balance;
TrendFilter – on/off trend filter;
TrendFilterMode – angle or above/below mode;
EnableVirtualAveragingInWrongDirection – allow averaging in the wrong direction;
CloseIfReverseSignalInWrongDirection – close if there is a signal to turn in the wrong direction;
TrendFilterPeriod – the period of the trend;
OnTesterMode – criteria for testing in Custom mode.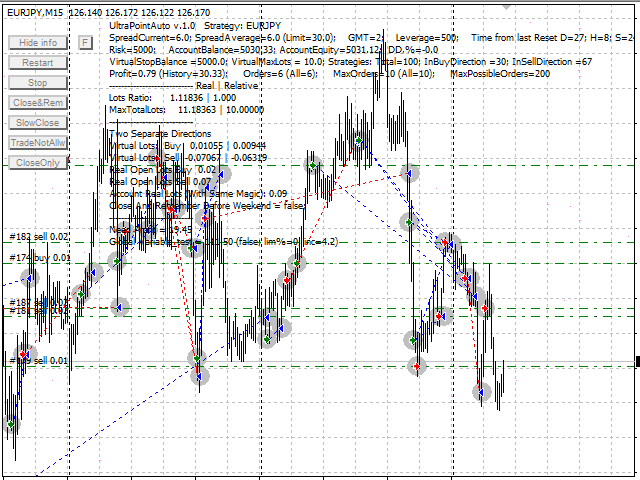 ZIP Password = getforexea.com (Lower Capital)
ZIP Password = getforexea.com (Lower Capital)