FREE Mql5 Quantica price $349
Ever wonder why the popular selling scalpers with fixed Stoploss, that you bought, never makes money after a while, even though the backtest is great? Ever wonder why you dont make profit from the EA's that you used, after going through many of them?
There is a reason for that.
Hi, Im a Quant with 15++ years REAL trading experience. You can PM me any question about my EA. They are running for a long time and i provide fast support.
QUANTICA is an Stable & Advanced, Trend Following MACD Smart Grid System, using Artificial Intelligence to trade on the highly volatile GBPUSD pair.
Live Monitoring: https://www.mql5.com/en/signals/873933 (current USDJPY was old settings. Will manually clear. GBPUSD on new version, settings.)
One of my favorite personal stable system, It waits and makes big profit on volatile moves, specializing in systematic algorithm, using quantitative models derived from mathematical and statistical analysis, based on past data, to extrapolate and predict for future market behaviour.

Trades like a real experienced trader, using averaging trades to secure a better average price. Using a clever concoction of MACD, RSI, Momentum Settings to trade correctly with the trend. Grid expands and contracts, based on Volatility filters. If the market has big candles, the TP and Grid size will be larger.

Works 100x better than Rigid fixed grids.

EA has been optimised for the past 5 years,(i dont optimise for longer periods because market behaviour evolves)

BACKTEST SETTINGS (make sure u have 90% tick quality from history center, and use Every Tick Model) If 99% TDS, set gmt=2 dst uk, spread 1-3

Start H1 Backtest of GBPUSD from 2015.1.1 to now with a $10,000 account with Lotsize = 0.01. AutoMM=true Risk=1
Working timeframe is H1 (Hourly)Minimum account balance: $3000 MINIMUM// $6000 RECOMMENDED // $30 if using CENT accountWorks for GBPUSD
Requirements:
VPS is strongly recommended
Features:
Backtested with Tick Data Suite real 99% tickdata, variable spreads and slippage.
The EA is stress free and very easy to setup and use.
How to Install:
Click Buy on MQL5, Log into your MQL5 account at MT4 Tools/Options/Community, then Go to Market Tab, Choose Purchased. QUANTICA will appear there. Click Install.
Open MT4/Navigator Menu, Open an empty chart of GBPUSD H1
Drag the EA at Navigator menu, to the GBPUSD chart. Make sure Autotrading turned on, Smiley appears on top right corner of Chart.
Make sure that there are no errors in Experts/Journal tab
That's it! Wait for Profit!
Settings:
Trade Comment- Comment for EA's orders
Magic Number – unique identifier for EA's orders
UseMM – use automatic lot calculation if true
Risk – if set to 1 (0.03 lot per every $10,000, or 0.01 lot per $3000)
Lot – Manual Lotsize if UseMM is false (dont use the default 0.2 lot during trading/backtest, i only use it to clear the MQL5 autotesting during submission. strangely only gets approved when i use 0.2 lot)
Multiplier – Averaging coefficient
Enable Fixed Trading Hour – If True, EA only searches for trades during start and end hour.
Shutdown – If True, EA will stop trading after current trades have closed
MaxDDPercent – If example, set to 30, EA will Stoploss after 30% of equity drawdown has been reached
Maxspread – spread limit, if over limit, no trade will open
Holidayshutdown – If True, it skips trading on the 15/12-15/1
MACD – Enable MACD for Trend Following Mode
Smartcalculate – Calculation of smart TP
ATRTF – Timeframe of ATR calculation, Trend and volatility
ATRMult – ATR Multiplier for Volatility
Maxtrades – Maximum opened grid averaging trades
BreakevenTrade – After this level, basket will try close at breakeven.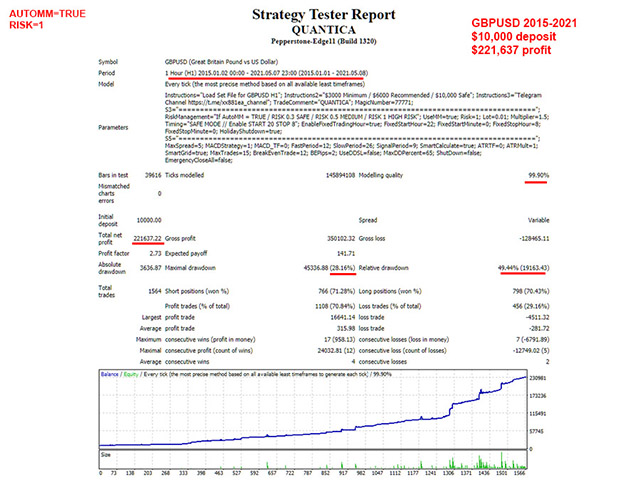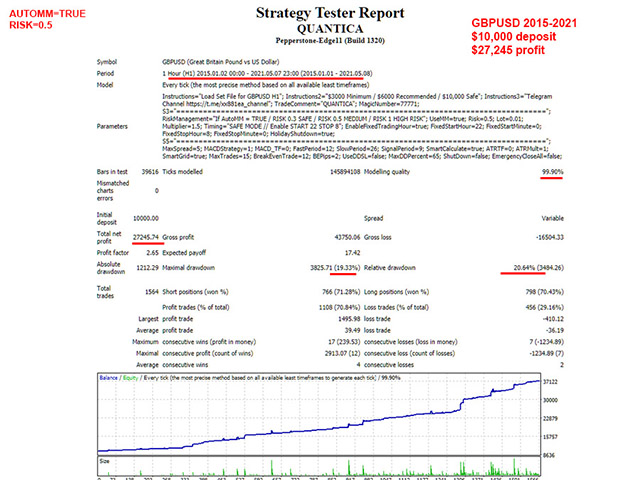 Instructions for installing the advisor:
This trading robot uses a custom DLL «msimg32.dll». Some antiviruses can block it and mark it as a virus. You need to make your antivirus «allow it». This false alarm is triggered because it is a custom DLL and is not verified by any publisher, but is required to unblock the advisor.
The library will work up to build 1320 inclusive. If your build is over 1320 you need to download this terminal and place it with a replacement in the root directory.
To disable auto-update of MT4 terminal do the following:
-Go to the folder C: / Users / Username / AppData / Roaming / MetaQuotes . Delete the entire «WebInstall» folder with all its contents.
-Create a file of any content named WebInstall.
For example, you can create a text document in notepad and rename it, remembering to remove the ending .txt.
Installation: unzip the library file «msimg32» and drop it into the root directory of the terminal, next to terminal.exe. Then restart the terminal.