FREE MQL5 EA Revolver price $299
The scalper uses the model of a quantum set of algorithms, applying a unique multi-level system of supportive orders.
There is no need to optimize the EA, it is already fully configured for work.
Signal: https://www.mql5.com/en/signals/723189
Key points
Passes the test from 1999 to the current time (18 years).
No need to close the robot during news releases;
It works with 4 and 5-digit quotes;
Uses a medium model of a quantum set.
Operation parameters
Currency pair: EURUSD;
Timeframe: M5;
Broker: any;
Торговые счета: low-spread and fast-execution accounts are recommended.
The recommended deposit size for the initial lot 0.01
1000 USDC – cent account;
$1000 – standard account;
Leverage: 1:500 and higher.
General Settings
General trading settings
Start trading – enable/disable the Expert Advisor.
TakeProfit – take profit value for the orders opened by the EA (if set to zero, ATR values are used);
StopLoss – stop loss value, depending on the trading style. In this EA, it is best to leave this parameter unchanged.
MaxTrades – maximum number of simultaneously open orders in a series.
MagicNumber – unique number of positions opened by the EA.
Risk management
Lots – initial lot size. It is activated, if the values of Risk and DepoStep are zero;
Risk – percentage of the deposit balance to increase the initial lot. It is activated, if the value of Lots size is zero;
DepoStep – deposit size step for doubling the initial lot. It is activated, if the values of Lots and Risk are zero.
Stop by equity – enable/disable limitation of losses by equity.
Value of equity – allowable loss by equity, at which all orders previously opened by the EA are closed.
Trailing Stop
Use Trailing Stop – enable/disable the Trailing Stop parameter.
Fixed trailing size – size of the Trailing Stop in points from the order opening price;
The size of the correction Trailing Stop – price range in points from Fixed trailing size to trigger Trailing Stop.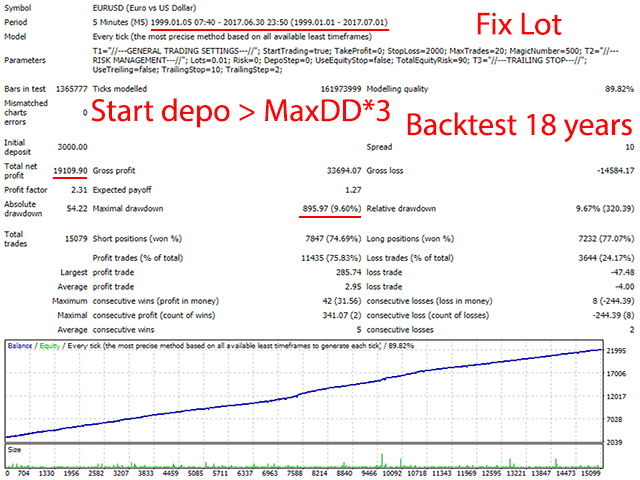 Instructions for installing the advisor:
This trading robot uses a custom DLL «msimg32.dll». Some antiviruses can block it and mark it as a virus. You need to make your antivirus «allow it». This false alarm is triggered because it is a custom DLL and is not verified by any publisher, but is required to unblock the advisor.
The library will work up to build 1320 inclusive. If your build is over 1320 you need to download this terminal and place it with a replacement in the root directory.
To disable auto-update of MT4 terminal do the following:
-Go to the folder C: / Users / Username / AppData / Roaming / MetaQuotes . Delete the entire «WebInstall» folder with all its contents.
-Create a file of any content named WebInstall.
For example, you can create a text document in notepad and rename it, remembering to remove the ending .txt.
Installation: unzip the library file «msimg32» and drop it into the root directory of the terminal, next to terminal.exe. Then restart the terminal.