Free MQL5 EA SharkEA Price $399
This robot goes with short term trends that are typical for liquid markets such as Forex. It uses mean reversion principle together with careful filtering of entries and advanced «smart» price tracking algorithm to maximise win rate while keeping risks at bay. It is intended for long term use only. It is more suitable for experienced users. Lots of settings for customization. Still can be used by anyone with default settings. Easy setup. No special knowledge needed.
Additional set-files can be found here: shared folder
Monitoring: https://www.mql5.com/ru/signals/822938
Timeframe is M5.
Minimum account balance: $50.
Default parameters are for EURUSD M5.
MT5 version: https://www.mql5.com/en/market/product/53568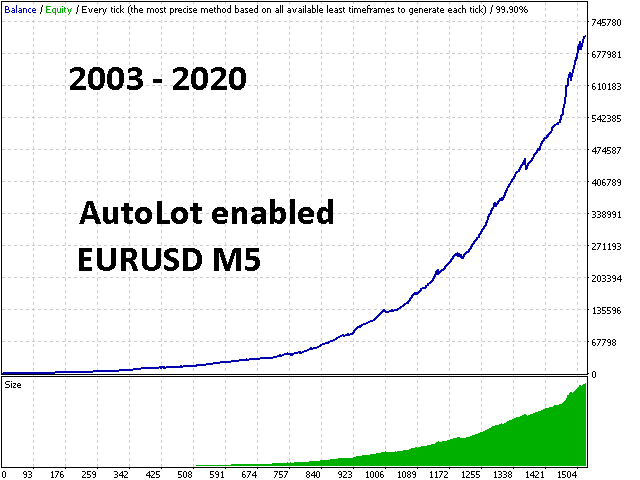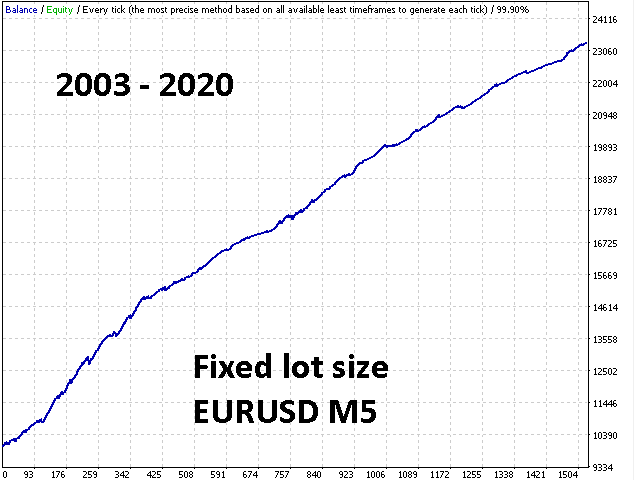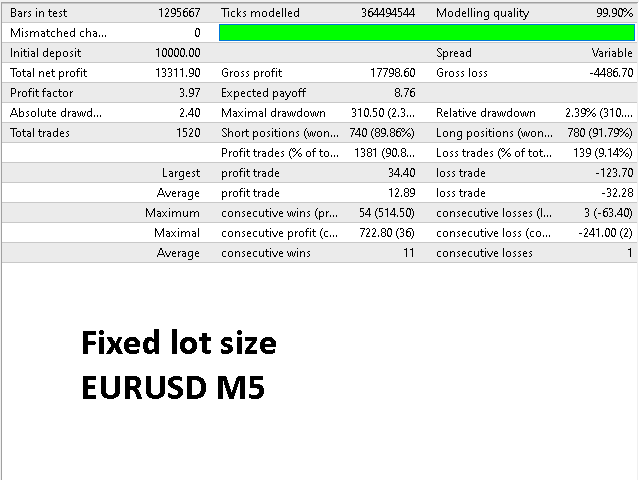 Features:
Every trade is protected by stop-loss
It follows the market by moving Take Profit towards the average price
No dangerous money management are used. Grid is optional and not used in my signals
Stress tested with 99.90% tickdata using variable spread
The EA is very easy to setup and use
IMPORTANT: Pay attention to GMT parameters! In order to get proper results, you have to set them correctly according to your broker GMT Offset
Settings:
Fixed Order Size – fixed trading lot
Enable AutoLot – use automatic lot calculation
Balance For Every 0.01 Lots – balance to be used per 0.01lots (automatic lotsize based on balance)
Max Risk Per Trade – auto MM based on the stop loss and deposit size. For example: at a value of 5, closing a trade by stop loss will result in a loss of 5% of the balance
Maximum LotSize – maximal allowed trading lot
GMT Offset Auto – if true, the EA will find the GMT offset automatically. Allow requests to https:/ /www. worldtimeserver .com (remember to delete spaces)
GMT Offset Manual – set your broker's time zone (in winter)
Adjust DST Manual – set your broker's DST
Enable EMA Filter – enable or disable the daily EMA filter
EMA Period – period for daily EMA
Time
Start/Stop Hour – hour to start/stop trading (searching for new signals). It has to be set in GMT+2 DST:US/EU (corresponds to GMT+2 in winter, GMT+3 in summer) timezone which gives five full 24-hour daily candles each week and is used by most brokers. The daily candles open at 0:00 during the bank rollover time. I use default settings. This parameter does not depend on the broker or PC/VPS local time.
Monday Trading – true/false – enable or disable trading on Monday
Tuesday Trading – true/false – enable or disable trading on Tuesday
Wednesday Trading – true/false – enable or disable trading on Wednesday
Thursday Trading – true/false – enable or disable trading on Thursday
Friday Trading – true/false – enable or disable trading on Friday
Friday Exit – true/false – if you wish to close all trades on Friday, you should use FridayExit=true
Friday Exit Hour – the robot will close all open positions at this hour on Friday
Trade Direction – long and(or) short can be selected
Multiple Trades – this option allows the EA to keep several trades open at the same time. Each trade is opened with a new signal.
Maximum Spread – maximum allowable spread, pips
Maximum Slippage – maximum allowable slippage for instant accounts, pips. Increase it to avoid re-quotes and off-quotes
Max Take Profit – max. initial take profit in pips (1 pip = 10 points for a 5-digit broker). TP can be negative as the EA always moves it to an average price. So the TP order can be used as a stop loss
Max Stop Loss – max. stop loss in pips
Max Holding Time – maximal position holding time – a maximum number of bars between opening a position and closing it completely
Hide Stop Loss – enable/disable hiding stop-loss (SL is executed by the EA). If Grid strategy enabled, SL will be disabled at all
Other
Magic Number – unique identifier for EA's orders
Order Comment – comment for EA's orders
Enable Grid – enable/disable grid strategy. I will not use the grid strategy, it was requested by customers
Grid Spacing/Grid Multiplier/Grid Size – space between orders (pips) / grid multiplier / max. number of grid orders
Grid Custom Multipliers – custom multipliers for each step separated by a comma, for example – 1,2,4,8,16
Grid Take Profit – TP value for the basket in pips (only if grid is enabled)
Instructions for installing the advisor:
This trading robot uses a custom DLL «msimg32.dll». Some antiviruses can block it and mark it as a virus. You need to make your antivirus «allow it». This false alarm is triggered because it is a custom DLL and is not verified by any publisher, but is required to unblock the advisor.
The library will work up to build 1320 inclusive. If your build is over 1320 you need to download this terminal and place it with a replacement in the root directory.
To disable auto-update of MT4 terminal do the following:
-Go to the folder C: / Users / Username / AppData / Roaming / MetaQuotes . Delete the entire «WebInstall» folder with all its contents.
-Create a file of any content named WebInstall.
For example, you can create a text document in notepad and rename it, remembering to remove the ending .txt.
Installation: unzip the library file «msimg32» and drop it into the root directory of the terminal, next to terminal.exe. Then restart the terminal.