PAM SCALPER (Price action momentum scalper) analyses historical price data to identify supply and demand zones where liquidity is high and enters with momentum of the institutional money flow.
The EA extrapolates areas to either buy or sell from historical price action and volume data.
If you want to backtest this EA or any other scalper EA, you must use high quality tick data. The historical data your broker provides through MT5 will give inacurate test results. You can follow my guide how to import real tick data into MT5 here: https://www.mql5.com/en/blogs/post/746240
Announcement channel and group chat for PAMS users:
After purchasing the EA you can send me a DM with a screenshot of your reciept to join our group chat and announcement channel.
Live monitoring:
Important links:
Main features of the EA:
No risky trading methods or money management system such as martingale, hedging, arbitrage, dollar-cost averaging etc.
This EA depends on low spreads. I recommend a true ECN broker with close to zero spread on EURUSD during London and NY session.
Every position is protected with a stop loss.
Can be used on small accounts with as little as 100 USD balance.
Highly advanced exit algorithm.
Adaptive stop loss control based on market volatility.
Does not rely on indicators. Only historical price action and volume data is used to find high probability entry areas.
More than 10 years of successful stress-testing.
Has been profitable in every market condition for the past +10 years
Most positions are closed within minutes which leaves less risk exposure to catastrophic events during flash crashes.
Only stop orders are used. Again, this protects your account from flash crashes. Should a flash crash occur while the EA has active pending orders placed, most likely these will be triggered in the direction of the crash.
Set and forget EA. Once you have installed the EA and loaded the set files you want to use, you do not have to intervene. Simply make sure you run the EA on a stable VPS with fast execution speed.
Robust set files provided – All set files has been put through thorough stress testing on both in-sample and out-of-sample data.
Other useful links for all traders: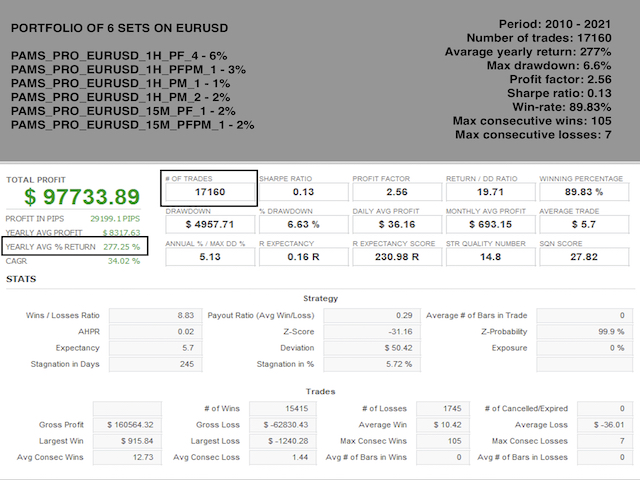 User's Manual: here Monitoring Live signals: here
DONT HAVE ANY CRYPTOCURRENCY? CLICK HERE
After Purchase download link will be available, product can be downloaded 24 H after purchase.
FILE DIRECT READY FOR DOWNLOAD
---
---
PAM Scalper PRO FX 2.9 mt5
---
---